BSA | The Software Alliance joins Think Digital 2019 as Summit Partner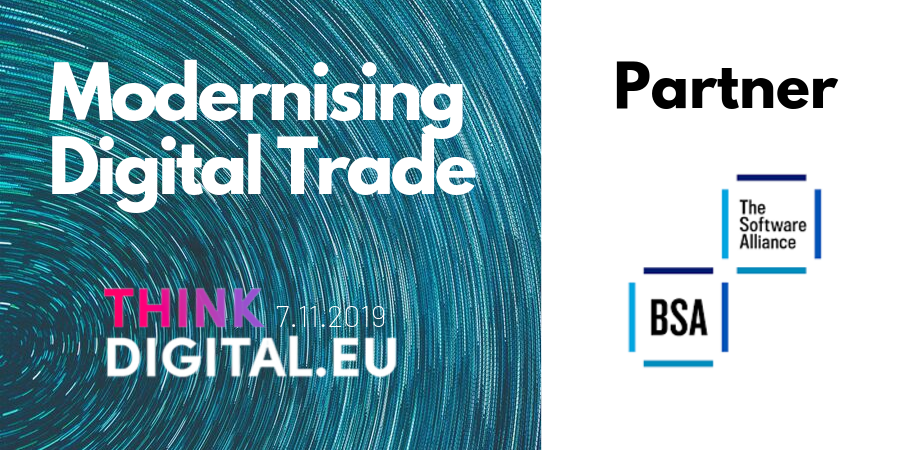 Following our successful collaboration in 2018, Think Digital 2019 is proud to welcome BSA | The Software Alliance as a Summit Partner in 2019.
BSA is the leading advocate for the global software industry before governments and in the international marketplace. Its members are among the world's most innovative companies, creating software solutions that spark the economy and improve modern life. With headquarters in Washington, DC, and operations in more than 60 countries, BSA advocates for public policies that foster technology innovation and drive growth in the digital economy.
At Think Digital 2019, BSA will co-organize a debate on "Modernising Digital Trade." Featuring perspectives from the new European Commission, the Australian government, and the software industry, this session will explore:
- What leadership role the EU play to forge global consensus on digital trade rules;
- How the EU can design smart, modern trade agreements that include twenty-first century obligations and drive job creation, competitiveness, and innovation;
- What consequences regulation in related policy spaces—including privacy and security— will have on free flow of data, and how this will impact digital trade within Europe and across the globe.
Joins us at the upcoming Think Digital 2019 on November 7 at the Egmont Palace in Brussels to discuss forward-looking digital trade rules and other key topics on the digital agenda. To register, please visit the Think Digital website.